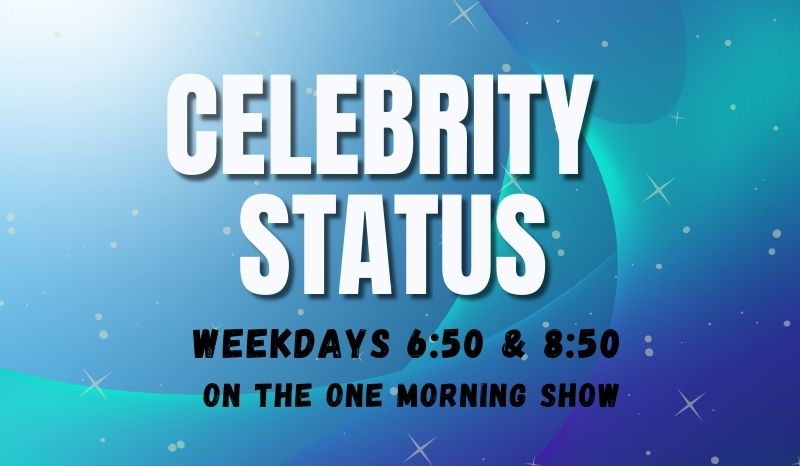 Celebrity Status: Marvels, Swift-Kelce, & Gordon Ramsay Is A Dad Again
BOX OFFICE _The Marvels had a disappointing opening weekend of $47 million, making it the worst debut in Marvel history. Initial projections had anticipated a higher opening of $75 million to $80 million.
The Marvels, $47 million
Five Nights at Freddy's, $9 million
Taylor Swift: The Eras Tour, $5.9 million
Priscilla, $4.7 million
Killers of the Flower Moon, $4.6 million
DISNEY TO RELEASE 100-FILM ANIMATED COLLECTION _ The Disney Legacy Animated Film Collection, a three-volume set featuring 100 animated films from Disney, Walt Disney Animation Studios, and Pixar, will be available beginning Tuesday.
… The collection is crammed into three volumes of Blu-ray discs that span Disney's entire feature film history from 1937's Snow White and the Seven Dwarves to this year's Elemental.
… The set includes digital codes for each movie, a lithograph from Disney's upcoming film Wish, a certificate of authenticity, and crystal Mickey Mouse ears engraved with the Disney 100 logo.
… The limited-edition collection is priced at $1,500.
TRAVIS KELCE SPOTTED LEAVING ARGENTINA AFTER TAYLOR SWIFT'S CONCERT _ Kansas City Chiefs player Travis Kelce has left Argentina after flying to South America to support girlfriend Taylor Swift during her international tour. Kelce was photographed boarding a private jet in Buenos Aires. Kelce's trip to Argentina was a short one, as he has to be back for team practice today (Monday).
… During his time in Argentina, Kelce was seen out to dinner with Swift and her father, Scott Swift. He also attended one of Swift's concerts, where she gave him a shoutout during her final song.
MATTHEW PERRY'S FRIEND SAYS HE WAS ALTERNATING BETWEEN 'LAUGHING AND CRYING' AT ACTOR'S FUNERAL _ Actor Hank Azaria has opened up about Matthew Perry's funeral, and plans to keep his legacy alive. Azaria described the services as sad, but also filled with laughter as they remembered the hilarious star. The death of Perry, who was found unconscious in his hot tub, has prompted the creation of the Matthew Perry Foundation to support those struggling with addiction.
… Azaria credits Perry with helping him get sober, sharing recently that Perry took him to his first Alcoholics Anonymous meeting in 2005.
NETFLIX RELEASES FULL REBEL MOON TRAILER _ Netflix has released a new trailer for Zack Snyder's Rebel Moon – Part One: A Child of Fire, which will have a limited one-week theatrical release on December 15, followed by a wide streaming release on Netflix on December 22. • TRAILER
… The film tells the story of a young woman residing on the outskirts of a galaxy who embarks on a mission to assemble a group of warriors to save the galaxy from an impending invasion by a tyrant. Snyder recently shared that Rebel Moon is set in the same universe as his previous Netflix film, Army of the Dead, albeit in different settings — outer space and an apocalyptic Las Vegas, respectively.
… Snyder also revealed that he initially wrote a 172-page script for Rebel Moon, which would have resulted in a three-hour-plus film. But Snyder and Netflix decided to split the movie into two parts.
ALEC BALDWIN RETURNS (BRIEFLY) TO SNL _ Alec Baldwin made his way back to the Saturday Night Live stage after a three-year break. However, this time, he did not reboot his infamous Donald Trump impersonation. Instead, Baldwin appeared as himself in a sketch centered around a meditation app.
… In addition to the sketch, Baldwin also joined host Timothee Chalamet on stage for the show's customary sign-off. Chalamet kicked off the night by embodying Willy Wonka in a musical performance, promoting the new Wonka film.
GORDON RAMSAY AND WIFE TANA WELCOME SIXTH CHILD _ British celebrity chef Gordon Ramsay and his wife Tana are celebrating the arrival of their sixth child. The couple announced the birth on social media, sharing a photo of Tana in a hospital bed cradling the newborn. The baby's name and gender have not been revealed. The Ramsays already have four sons and one daughter. They tied the knot in 1996.