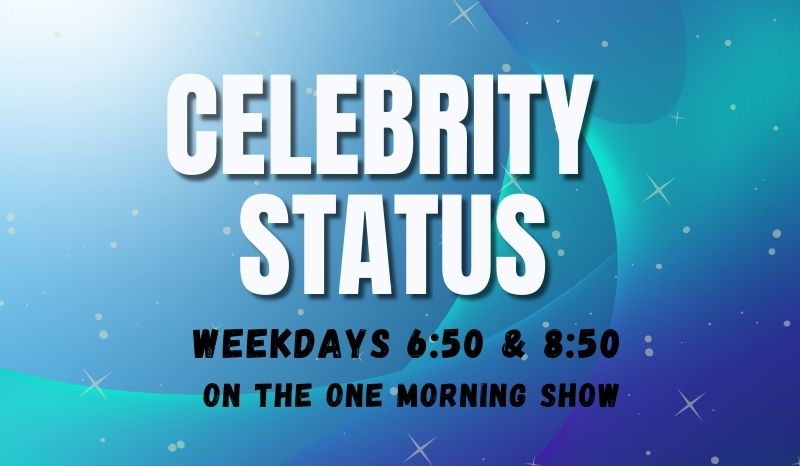 Celebrity Status: Marvels, DeNiro, Sandler, & Inside Out 2
FRIDAY
It's a big weekend for movies, with Brie Larson, Teyonah Parris, and Iman Vellani leading the way in The Marvels. Their three superheroes — Captain Marvel, Monica Rambeau, and Ms. Marvel — team up after discovering that something is linking them, causing them to physically swap places every time they use their powers.
Plus, Michael Fassbender stars in David Fincher's crime drama The Killer on Netflix; 
________________________________
Limited release in theaters, Nicolas Cage stars in Dream Scenario, and Paul Giamatti reteams with Alexander Payne for The Holdovers.
SERIES PREMIERE: THE CURSE (Paramount+) – Nathan Fielder stars in and produces this new series, which also stars Emma Stone. They play a married couple who host a home-flipping show but have their relationship disturbed when a curse is placed on them.
PREMIERE: 007 ROAD TO A MILLION (Prime Video) – This new reality competition follows nine pairs of participants who must answer 10 questions set by The Controller, played Brian Cox, and hidden around the world for the chance to win 1 million pounds. It's basically The Amazing Race with a James Bond twist.
SEASON PREMIERE: FOR ALL MANKIND (Apple TV+) – Season 4 of this alternate-history space race series picks up from season 3's 1990s, where Mars became the big goal for the U.S. space program..
Saturday
SATURDAY NIGHT LIVE (11:30p ET, NBC) – New. Timothee Chalamet hosts, with musical guest boygenius.
SUNDAY
LAWMEN: BASS REEVES (9p ET, CBS) – This Paramount+ original, from executive producers Taylor Sheridan and David Oyelowo, comes to CBS tonight with the first 2 episodes. The series follows the untold story of the first Black U.S. Marshal, Bass Reeves.
MASTERS OF THE AIR TRAILER _ Apple TV+ has unveiled the trailer for its upcoming war drama series Masters of the Air. The limited series, set during World War II, follows members of the Air Force fighting against Nazi Germany. It stars Austin Butler and Barry Keoghan as fighter pilots Major Gale Cleven and Lt. Curtis Biddick. It's executive produced, in part, by Steven Spielberg and Tom Hanks.
… The nine-part series is based on Donald L. Miller's book Masters of the Air: America's Bomber Boys Who Fought the War Against Nazi Germany. The first two episodes will release on January 26. • TRAILER
ROBERT DE NIRO'S FORMER PERSONAL ASSISTANT AWARDED $1.2 MILLION _ Actor Robert De Niro's former personal assistant, Graham Chase Robinson, has been awarded more than $1.2 million by a jury in a gender discrimination lawsuit. The jury found that Canal Productions, a company formed by De Niro, was liable for gender discrimination and retaliation towards Robinson. While De Niro was not held personally liable, the jury ordered Canal Productions to make two payments to Robinson, who accused De Niro and his girlfriend of subjecting her to a toxic work environment, which transformed her once-loved job into a nightmare.
… During the trial, Robinson testified about an "emotional and mental breakdown" that led her to quit her job, leaving her feeling overwhelmed and like she had "hit rock bottom." She stated that she has suffered from anxiety and depression since leaving her position and has been unable to find work for the past four years, despite applying for 638 jobs. In response, De Niro and his girlfriend testified that Robinson's escalating demands to remain on the job became problematic. De Niro claimed that he had previously increased Robinson's salary and title at her request.
WARNER BROS SHELVES COYOTE VS. ACME _ Warner Bros has decided not to release the completed live-action/animated film Coyote vs. Acme. This marks the third time Warner Bros Discovery has canceled a movie. While the film received positive test scores, Warner Bros found it not worth the cost to release theatrically or sell to other buyers. The movie stars John Cena and Will Forte.
LEO VIDEO PREVIEWS NEW ADAM SANDLER-LED ANIMATED NETFLIX MOVIE _ Netflix has unveiled a new clip from its upcoming animated film Leo, starring Adam Sandler. The clip showcases an action-packed escape scene, in which Leo the lizard tries to get out of his cage and make it to an open window. However, he faces obstacles such as being thrown around by fans and coming face-to-face with a dog. • VIDEO
… In addition to Sandler, the star-studded voice cast includes Bill Burr, Cecily Strong, Jason Alexander, and Sadie Sandler.
… Leo lands on Netflix on November 21.
INSIDE OUT 2 TEASER TRAILER INTRODUCES MAYA HAWKE AS ANXIETY _ Pixar has released the first teaser trailer for Inside Out 2, the sequel to the hit animated film from 2015. Returning in the sequel are Riley's emotions Joy, Sadness, Fear, Anger, and Disgust, but they face new challenges as Riley becomes a teenager. • VIDEO
… One of these challenges comes in the form of a new emotion named Anxiety, voiced by Maya Hawke of Stranger Things.
… The film comes to theaters next June.
FIRST TV SERIES TO RESTART PRODUCTION AFTER STRIKE _ The six-month production shutdown due to the writers and actors strikes is over, and TV studios are not wasting a minute, with TV series — mainly returning broadcast shows — going into full prep immediately. Just minutes after the end of the strike was announced after the actors guild and the studios reached a tentative agreement on a new contract, TV casts and crews started receiving notifications for tentative start dates in late November and early December.
… It looks like NBC show Night Court be leading the way in post-strike restart with a November 15 return to production. Other series ready to get back to work this month include Abbott Elementary, Grey's Anatomy, NCIS, the FBI shows, the Chicago shows, Law & Order and Law & Order: SVU, and Grey's anatomy.
THE JOHN WICK UNIVERSE IS EXPANDING _ Despite the underwhelming response to the failed spin-off series The Continental, the John Wick franchise is ready to give it another shot with new shows and an anime spin-off. The live-action series will explore the mysterious and powerful High Table.
… The anime project, which will allow for "cool stories that anime could achieve better than we could," is another aspect of the expanding franchise. Specific details are still forthcoming.