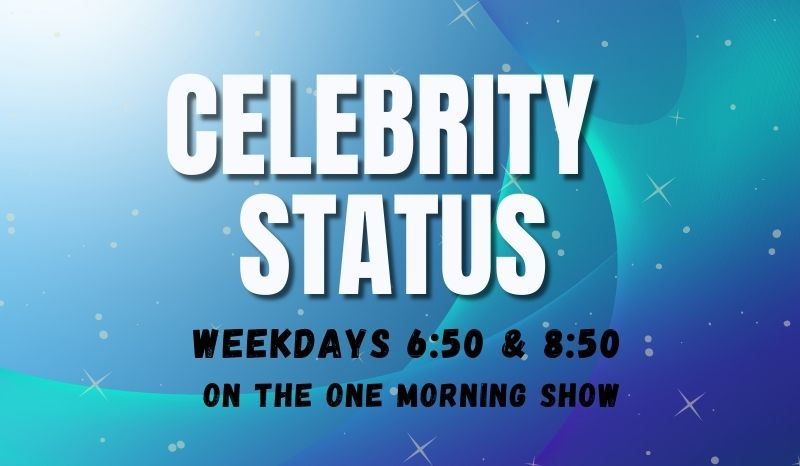 Celebrity Status: Brad Pitt's Got A New One; Kevin Spacey Ordered To Pay; Keanu Reeves Coming To TV
New in theatres and streaming services this weekend:
• Bullet Train (Theatres) — Five assassins aboard a fast moving bullet train find out their missions have something in common. Brad Pitt leads the cast.
• Easter Sunday (Theatres) — Set around a family gathering to celebrate Easter Sunday, the comedy is based on Jo Koy's life experiences and stand-up comedy.
• Luck (Theatres + Apple TV+) — In this animated film the curtain is pulled back on the millennia-old battle between the organizations of good luck and bad luck that secretly affects everyday lives.
• Prey (Hulu) — The origin story of the Predator in the world of the Comanche Nation 300 years ago. Naru, a skilled female warrior, fights to protect her tribe against one of the first highly-evolved Predators to land on Earth.
• Carter (Netflix) — Thrown straight into a dangerous mission with none of his memories intact, a man must escape death while trying to figure out who he is, how he ended up here, and who is the mysterious voice in his ear calling him "Carter"?
• Thirteen Lives (Moves from theatres to Amazon) — A rescue mission is assembled in Thailand where a group of young boys and their soccer coach are trapped in a system of underground caves that are flooding.
====
Lady Gaga has just confirmed her casting in Joker 2, opposite Joaquin Phoenix, with an old time-y musical teaser.
The teaser, set to "Cheek to Cheek," which Gaga herself has actually covered alongside Tony Bennett, finally confirms the rumors of Gaga's involvement in the film that began swirling earlier in June. Which actually makes perfect sense, since the Todd Phillips directed sequel is set to be a musical.
====
YOU CAN BUY A GHOSTBUSTERS THEMED CASKET INSPIRED BY THE ECTO-1 _ A Ghostbusters-themed casket inspired by the Ecto-1 is now available on eBay. Made by Nashville Casket Sales, the listing states that the casket was made last year to help with the theatrical release of Ghostbusters: Afterlife.
… The body features an overall white design and pays homage to the Ghostbusters' modified Cadillac, including decals of the no-ghost logo and license plate, along with likely the most eye-catching piece: a recreation of the vehicle's gadget-based roof rack.
… Halloween costume accessories are included, with a Proton Pack seen resting inside, along with a Ghost Trap wrapped around the side handles.
… The casket is now available on eBay for $5,000.
KEVIN SPACEY ORDERED TO PAY $31 MILLION TO HOUSE OF CARDS PRODUCER _ A judge has ordered Kevin Spacey to pay House of Cards production company MRC nearly $31 million for alleged sexual misconduct behind the scenes of the Netflix White House drama. Spacey, who played Frank Underwood, was kicked off the series during its sixth season after facing allegations that he had sexually assaulted and preyed upon young men, including a House of Cards production assistant who said Spacey groped him, prompting MRC's investigation.
… A Los Angeles Superior Court Judge (Mel Red Recana) confirmed an award previously handed down by an arbitrator in October 2020, which consisted of around $29.5 million in damages and $1.5 million in costs and fees.
… MRC had argued that Spacey owed them millions in lost profits because his misconduct forced them to remove him from the sixth season of the show, and it had to trim the season from 13 episodes to eight. Ruling in the producer's favor, the arbitrator found that Spacey's behavior constituted a material breach of his agreements as an actor and executive producing agreements.
DEVIL IN THE WHITE CITY WILLS STAR KEANU REEVES _ The long-anticipated adaptation of Devil in the White City has been ordered as a series for Hulu with Keanu Reeves set to star in one of the lead roles. The series is based on the book of the same name by Erik Larson. It tells the true story of Daniel H. Burnham (Reeves), a demanding but visionary architect who races to make his mark on history with the 1893 Chicago World's Fair, and Dr. H. H. Holmes, America's first modern serial killer.
… This will mark Reeves' first major American television role. He starred in a number of TV films early in his career and also appeared in the Swedish-American web series Swedish Dicks.
CHIP AND JOANNA COMING TO HBO MAX _ HBO Max just announced Discovery darlings Chip and Joanna Gaines would be bringing select content from their Magnolia Network to the streaming service — including Fixer Upper: The Castle.
… Other titles from Magnolia Network coming to HBO Max in September will include Fixer Upper: Welcome Home, Magnolia Table with Joanna Gaines, and The Lost Kitchen.
ALEX JONES ORDERED TO PAY $4.1 MILLION _ Alex Jones was ordered to pay $4.1 million in compensatory damages to the family of a 6-year-old Sandy Hook shooting victim for repeatedly claiming the 2012 massacre was a hoax. The Texas jury set the amount after Jones and his media company, Free Speech Systems, were found liable for defamation of and inflicting emotional distress on families affected by the Sandy Hook massacre.
… The Infowars founder had previously offered to pay $120,000 per plaintiff to settle, but the families opted for a jury decision as they sought up to $150 million in damages. There will be a second phase for punitive damages, and Jones faces two additional damages hearings.